Dr. Larry S. Goldstein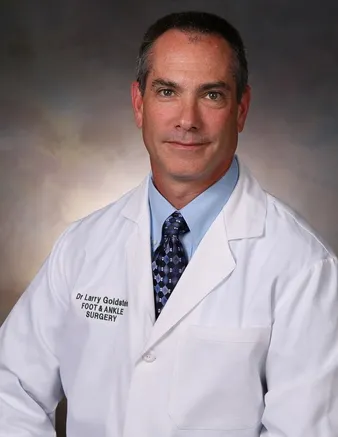 Dr. Goldstein has been in private surgical practice for almost 30 years, of which 23 years have been here in Warner Robins. He obtained his B.S. in Biology from Rutgers University, New Brunswick, New Jersey. His doctorate in Podiatric Medicine was completed at Des Moines University Osteopathic Medical Center- College of Podiatric Medicine and Surgery in 1988. Dr. Goldstein completed his surgical residency at Worcester City Hospital, an affiliate of the University of Massachusetts Medical Center in Worcester, Massachusetts. He practiced in Norway Maine for 6 years before moving to Warner Robins Georgia.
Dr. Goldstein served as a Delegate for the State of Maine to the House of Representatives of the American Podiatric Medical Association for several years.
He also was appointed as an Ambassador for "People to People" International to the Republic of China
Dr. Goldstein has previously served as Chief of Podiatric Surgery at Medical Center of Central Georgia in Macon and as Medical Director of Surgical Centers of Georgia. He has authored podiatric surgical techniques and has been a medical lecturer.
As a staff surgeon, Dr. Goldstein is affiliated with Houston Medical Center, Warner Robins and the Medical Center of Central Georgia- Navicent Health. . Dr. Goldstein has undergone specialized training in the use of External Multiplanar Ring Fixators (Halos) This training was done in the U.S., Greece , and Russia. His special practice interests include reconstructive surgery of the foot and ankle.
Diplomat American Board of Foot and Ankle Surgery
Board Certified by the American Board of Foot and Ankle Surgery, and has re-certified
Fellow American College of Foot and Ankle Surgeons
Professional Organizations American Podiatric Medical Association Georgia Podiatric Medical Association